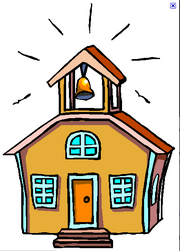 Here the founder hosts events based on the holiday. Everyone is welcome to join.
Starting September 2012, when this wiki opens to the public, school will be here, and YOU have an assignment!
Spellbound
Edit
Ever wanted to create a spell? Now's your chance! Write a spell, then name the charm and what you must do before and after you say the spell (you may include what the spell is for if you would like). Remember that a spell's lines must rhyme in some way. Whoever's spells will be the most well-written will win! You're spell, charm and actions will be posted along with your name on your talk page and the home page. This contest goes all through September. Good luck!